Jeffry Gardner, D.D.S.
Dr. Gardner began his childhood in Clarksdale, Missouri and later graduated from Maysville High School. He continued his education at the University of Missouri, Columbia and earned his Bachelor's Degree in Biochemistry. Immediately following Mizzou, he entered dental school at the University Of Missouri Kansas City School Of Dentistry where he received his Doctor of Dental Surgery Degree in 1997.
After spending three years in Indianola, Iowa with a small group practice, Dr. Gardner and his wife, Darchelle chose Maryville as the place they wanted call home. Today they are blessed with two children, Alex and Katie. Alex completed his undergrad at Mizzou in May of 2021, and is excelling in dental school at UMKC. Katie graduated in May 2023 from Oklahoma State University and has joined the team at United Electric.
Dr. Gardner is a member of the American Dental Association, Missouri Dental Association and Northwest Missouri Dental Society where he has served as President and Treasurer. He is an active member of the Maryville Host Lions Club, the Mozingo Advisory Board and Countryside Christian Church.
In his time away from the office, Dr. Gardner enjoys spending time with his family. He is an avid outdoorsman and enjoys hunting, fishing and working on his farm to improve wildlife habitat.
---
Daedra Powers,

Registered Dental Hygienist
Hi! I'm Daedra (pronounced Day-dra) and I have been a hygienist for Dr. Gardner since 2012. I always knew I wanted to be involved in a dental office as I had loved going to the dentist as a kid. I graduated with a degree in dental hygiene from NCMC. You will find me behind the scenes cleaning teeth and making people smile.
When I'm not at work, you can find me running around St. Joseph with my husband, Brad, and our little boy, Carter. We enjoy cheering on the Chiefs and Royals, being outside, traveling and watching Carter play t-ball.
---
Danielle Guthrie,

Registered Dental Hygienist, Expanded functions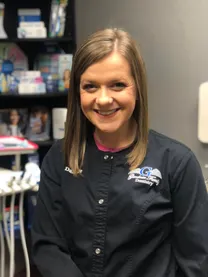 Hi! I'm Danielle, one of Dr. Gardner's Registered Dental Hygienists! I grew up in Bedford, IA and graduated from Bedford High School. After high school, I attended Des Moines Area Community College where I took my general education courses to get into the hygiene program. During my waiting period of getting into the program, I was a dental assistant for 2 years. I graduated in May of 2016 and I practiced in Iowa until starting with Dr. Gardner in October 2016. In 2021, I expanded my knowledge and completed my certification for restorative in March 2021.
I had the pleasure of marrying my husband Jason, in March 2017 and we welcomed our daughter in March 2018 named Blaire. Our son Rylan completed our beautiful family in September 2021. When I'm not working, I enjoy hanging out with my husband and chasing around our two beautiful children! Gardner Family Dentistry is a great place to work and we have a great team of dental professionals. I hope to meet you soon and be able to help with your overall oral health.
---
Darchelle Gardner,

Office Manager
Hi! My name is Darchelle. I wear many hats in the office including Office Manager, Dr. Gardner's wife, and "Office Mom". After 22 years as a cardiac nurse, I made the decision to join Jeff in the office. I am usually up in front answering phones and I have come to enjoy the title of "Director of First Impressions"! After 22 years of direct patient care, I do enjoy assisting in the back as well.
In my spare time, I enjoy visiting Alex at UMKC School of Dentistry and cooking his favorite meals when he comes home. Katie graduated in May 2023, with a degree in Business and Accounting from Oklahoma! Our family enjoys spending time at our farm with our two dogs: Jag, the Brittany and Willow, who is a Wirehaired Pointing Griffon. We also enjoy traveling as a family and visiting new destinations.
Jeff and I feel passionately about the organizations that we support including Big Brothers Big Sisters, Countryside Christian Church, Missouri Mission of Mercy (MOMOM) and the Belize Mission Project. Each year we make it a point to close the office to attend MOMOM and donate our time to provide free dental care to those in need. In October of 2018, Katie and I were blessed to be able to go on the Belize Mission Project where we were part of a team that provided dental services including restorations, extractions, and preventative care to the under-served people of Belize.
I enjoy working in the office, visiting with people, and being witness to Dr. Gardner and the staff provide exceptional patient care. Please make sure to say hi when you're in the office!
---
Brooke Ramsey,

Patient Care Coordinator, Certified Dental Assistant, Expanded Functions
Hello there! My name is Brooke. When I joined the team in 2019, I worked alongside Dr. Gardner as a dental assistant. I completed my dental assisting certification and have my expanded functions in removable prosthetics and fixed prosthetics! You can now find me at the front desk doing my best to make the most of your insurance benefits, coordinating patient care, and getting to know each patient. I have a true passion for dentistry; I enjoy educating patients about their teeth and I enjoy helping patients love their smile! It is rewarding to be able to build relationships with patients while helping them achieve their perfect smile!
I grew up just west of Maryville, in Fairfax, MO and moved to Maryville in 2008. I married my amazing husband, Cory, in June of 2016 and welcomed our son, Kellyn in June of 2019! Our little family moved back to my husband's stomping grounds in good ol' Rea, MO! Yes, if you blink you might miss it! Outside of work, I enjoy spending time with my husband and our son, spending time with friends and family. I also enjoy traveling and spending time outdoors, mainly playing sports or cheering on the Royals and Chiefs! I look forward to meeting you soon!
---
Jordan Schieber,

Dental Assistant
Hi ya'll! I'm Jordan, I am a dental assistant here at Gardner Family Dentistry. I grew up here in Maryville, attended college at Northwest, then moved up to Iowa shortly after I graduated. There I was a Registered Dental Assistant for about 3.5 years. When I moved back to town I took a year off to explore other options and found myself missing the dental life. So now, here I am!
Outside of work, I am usually spending time with my doggo and my husband, Brad, who I married on Halloween weekend of 2022! We are expecting our first child in August of 2023, and we are so excited! We enjoy going down to the Lake of the Ozarks and spending time with family.
I already enjoy working along side the amazing team here at Gardner Family Dentistry and enjoy getting to know all of you soon!
---
Jordan Milke, Registered Dental Hygienist

Hi all! My name is Jordan. I am a Registered Dental Hygienist here at Gardner Family Dental. I grew up in Sioux Falls, SD before attending the University of Nebraska. Go Big Red! From there I received my bachelors in Dental Hygiene from the University of Nebraska Medical Center.
I moved to Maryville in 2019, and have come to learn what an amazing community I serve! The favorite part of my job is connecting with my patients, and fostering relationships. I cannot wait to meet you at your next appointment!
In July 2022, I married my husband Ryan! We just bought our 1st home here in Maryville! In our spare time we enjoy attending any and all Bearcat sporting events, golfing or baking!
---
Chelsi Praiswater, Patient Care Coordinator
Hi I'm Chelsi, the newest addition to Gardner Family Dentistry! You can find me at the front desk greeting patients and building relationships. After graduating high school, I moved to Barnard, MO with my high school sweetheart Trevor where we have built our own little farm. We primarily raise goats, but have other animals as well. I love the simple life that we have created! In my spare time, if I am not running my son, Swayde around to his various sports and activities, you can usually find me with a good book or spending time with my friends and family.
I really enjoy working with the public, I look forward to meeting you all and taking care of your dental needs!